Many people have sleep problems of one kind or another.
When I was younger I didn't have a problem sleeping. I just didn't do it much.
I used to hate going to bed.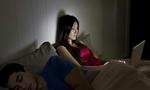 In college I slept 5 hours a night. I loved what I was doing and I hated to stop. 
I also was extremely aware of how important time was. 
But new studies indicate that under sleeping OR over sleeping isn't good.
Research published in the academic journal Sleep showing that the risk of high blood pressure is more than three times greater among those who sleep for less than six hours a night, and that women who have less than four hours of sleep are twice as likely to die from heart disease.
Is sleeping  a problem for you?
Having trouble sleeping? Is it affecting your  work? Or your relationships?
Contact me for a free 20 minute chat.
Maybe I can help.
Frank
P.S. In the meantime, here s the best and latest guideline for getting a good night's sleep.
It's free. You can print it immediately from here.
HOW TO SLEEP WELL AND START THE DAY RESTED
 If this article was of interest, please click here to join the free registration for Self-Knowledge College. I'll be sending you a lot of free solid information about YOU!